The benefits of music education
Music is the universal language and as Beethoven suggested: "Music can change the world." Since our goal at Fern Hill is to educate the whole child, instilling a love of music and teaching the theory behind it are vital aspects of our role as educators.
In 2014, The Royal Conservatory released The Benefits of Music Education, a fascinating report based on current neuroscience research. A few quick facts from the report:
Music education:
Improves language abilities
• Increases emotional resilience
• Increases empathy
• Increases attention span and focus
• Increases self confidence
The scientific research that forms the basis for this report is fascinating. Read more: https://www.rcmusic.ca/sites/default/files/files/RCM_MusicEducationBenefits.pdf.
It's never too early to let the music take you …

Music is a part of life at Fern Hill from the day a student enters Preschool. Our trained music specialists teach a knowledge of theory, rhythm, vocals and the various performance aspects involved in music. Even at a young age, Fern Hill students have the confidence to create and perform music.  In Grades 3 and 4, students begin to apply their music-reading ability to the recorder and in Grade 5, we add wind and brass instruments to their repertoire.  In addition to instrumental music classes, students may become members of the Concert Band or Jazz Band to further enhance their musical skills.
Oakville Campus Junior Intermediate Choir
Take a moment to enjoy our recent Provincial Winning Performances:
Sing to Me:
Down by the Riverside:
The Fern Hill School Concert and Jazz Bands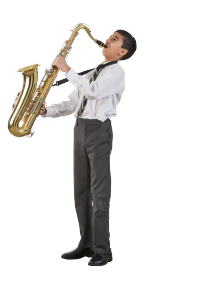 The Fern Hill Concert and Jazz bands perform at a variety of school functions throughout the year and their
achievements are showcased in the Christmas Concert, Grandparents' Day and the Spring Festival of Sights and Sounds. Students, staff, and parents look forward to these events where our music students play a range of pieces, demonstrating their abilities with improv moments
through their instruments. Watching Fern Hill students confidently take the stage and demonstrate their skills is a credit to our music teachers, as well to our students' commitment to mastering their instruments.
At Fern Hill, music becomes a lifelong passion for students, not only for professional reasons, but also for pleasure.