The growth of self esteem and mental alertness through Athletics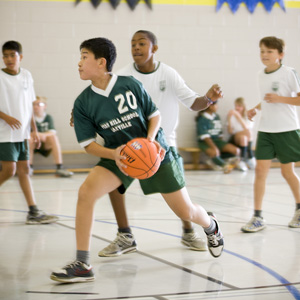 Fern Hill's Physical Education programme coaches students from Preschool through Grade 8 in the skills and drills associated with a rotation of sports that follow the seasons. We begin by developing gross motor skills, balance and coordination. Then we introduce the specific skills associated with each sport and give students an understanding of the rules and strategies.
Sports and games in school encompass more than the benefits of teamwork, physical activity and fresh air, they develop self-esteem and mental alertness. Maintaining a healthy weight, preventing chronic disease and learning what is required for a healthy lifestyle, are all tied to knowledge and early physical education.
Developing a love of sports and a commitment to good sportsmanship
As students progress in strength and ability, we introduce the option to play intra-house games. Intra-mural tournaments begin in Grade 3 with participation in Ontario's Private Schools' Athletic Association (PSAA). With over 20 elementary private school members, Fern Hill students get the chance to be part of a team representing their school in tournaments at home and away. Fern Hill is a proud and frequent recipient of several team titles, although our main focus is developing a love of sport, the confidence and willingness to take on new challenges and good sportsmanship.