Eight Houses — One Supportive Family
Fern Hill's Houses are designed to create school spirit, friendly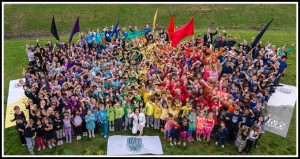 competition, and help build our school community. The opportunity to be a House Captain gives Grade 8 students the chance to connect with their house members and set an example of house loyalty and good sportsmanship.
Lunchtime sports, The Amazing Race, Battles of the Books, House Cheers and Sports Day are just a few of the competitions that give each Fern Hill House a chance to have fun and compete against each other for the coveted House Cup at the end of the year.
The in-school house system at Fern Hill:
Creates a supportive, student-led environment in which each student is a valued member of a family unit
Fosters respect, consideration and courtesy
Builds positive self esteem among students and teaches the value of community
Develops interpersonal skills and friendships across age groups
Creates peer support. Bullying is not tolerated at Fern Hill
Promotes student responsibility, team skills, leadership skills and cooperation
Offers athletic, academic and social extra-curricular activities to enhance the school experience
Encourages Fern Hill students to have fun!
House Names and Colours
Each House name is a past Prime Minister of Canada.
Abbot – Yellow
Bennett – Purple
Borden – Orange
Laurier – Green
MacKenzie – Dark Blue
MacDonald – Red
Thompson – Black
Tupper – Powder Blue
Although we're not quite a Harry Potter's Hogwarts, our Houses are full of fun and learning.
The ornament of a house is the friends who frequent it.