A French program with a first language approach – Preschool to Grade 8
It is one thing to understand the structure of a language, it's quite another to speak a second language with confidence. Our experienced bilingual French teachers know this and have designed our program to teach their students vocabulary and its useful relevance through singing, dancing, acting, writing, reading, drawing and even telling jokes, as we do in English-speaking classes.
Creating an interesting and interactive environment is part of an approach which inspires Fern Hill students to speak French confidently beyond the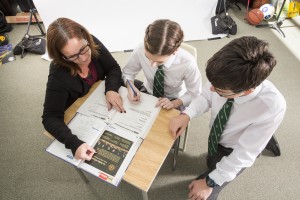 classroom. Their success is demonstrated each Wednesday when Morning Assembly is conducted in French. On these mornings, students, staff, and parents are challenged to use their French together.
Our youngest students enjoy our introduction to French as they are at the point when foreign-language acquisition mirrors their native language development. These early skills are honed as they continue through the older grades. Students who show an affinity for the language can work ahead and by Grade 8, they are ready to take an accredited Grade 9 French (FSF1D – Academic Core French) course. This is one of 18 compulsory credits needed to graduate from Ontario high schools.
The benefits of second-language learning are significant
The Ontario Ministry of Education's A Framework for French as a Second Language in Ontario Schools, Kindergarten to Grade 12, revealed the significant cognitive and academic benefits of learning a second language. Among them:
greater academic proficiency
improved memory
greater abstract thinking
a heightened respect for culture and diversity
Read more here: http://www.edu.gov.on.ca/eng/amenagement/frameworkFLS.pdf
With rapid globalization, multilingualism is more important than ever
In an era of rapid globalization, multilingualism is an economic, cultural and personal asset inside and outside Canada. As businesses grow their markets internationally, it is increasingly important for this generation of students to have skills in more than one language